About Affinity Innovations
Affinity Innovations is a software company focused on blockchain technology. We develop products to improve security and overall quality of life for individuals and businesses in this realm. Expanding education and creating opportunities to learn new techniques to keep up with the fast-paced expansion of blockchain technology is paramount to the future of cryptocurrency in modern society. New developments within blockchain technology provide Affinity opportunities to connect businesses, customers, and organizations through innovation and problem-solving. As the industry continues to grow, so does the need for tools and products designed to simplify and secure the way business is conducted.
Security Focus
Penetration & Exploitation Testing
Security is a critical, yet highly overlooked aspect of technology. We place security at the forefront of everything we do. Affinity Innovations will provide penetration testing on software and services while giving critical feedback to customers on vulnerability with recommendations to alleviate it. This will include web UI and backend testing as well as smart contract exploitation testing. Services will be provided through our subsidiary, Affinity Innovations, LLC,
Education is Key
Crypto Tech Lounge
We will establish the first-ever blockchain and technology-themed lounge. These facilities will center around the excitement blockchain and cryptocurrency brings to the world. With an incorporated learning center, patrons can sign up for educational opportunities to expand their knowledge of blockchain technology and many related topics. Offerings of café-style beverages and beer and wine will add to the expansive atmosphere. Affinity Innovations, Inc will franchise these locations offering licenses and branding to those who wish to bring this experience to other locations..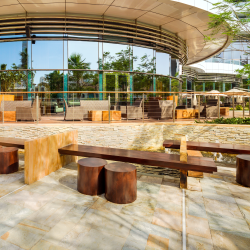 ADAPT
Mobile Application
Our flagship product, the Affinity Digital Asset Payment Technology (ADAPT) platform, is available as a web application and mobile application on both Google Play and Apple app stores. The mobile applications allow users to connect to any decentralized wallet they choose, send and receive several cryptocurrency assets to friends, and family, or make payments. In addition, transaction history is available, along with a personal message that can be attached to each transaction. This intuitive and easy-to-use platform is similar to popular fiat payment apps such as CashApp and Venmo.